No?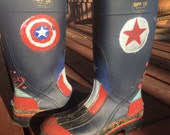 Here, let me help you out. And then suit up.
And remember, an ant has no quarrel with a boot. Especially this one.
(I'll stop the cheesy puns now.)
(But you've got to admit they were pretty grate)
Just a heads up, I have these boots listed in my shop now.
~Hope